March 25, 2021 |Written by Guest Contributor Pam Nurrie
Why Sell T-shirts?
T-shirts can be visually impactful, emotionally stimulating, and long lasting.  Someone once said to me, "It's not the t-shirt that is important, it's the memory it makes." I can remember the first t-shirt I ever got. I bet you can, too. Or at least favorites over the years. T-shirts often tell us a lot about the person wearing them. Everyone has their perfect type t-shirt they prefer. T-shirts have evolved from being something you wear for the functionality of it to an outlet of self-expression.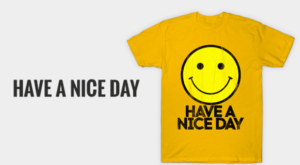 Upsell with T-shirts
Up your game and stay ahead of the competition by strategically building your brand and marketing with these simple tips:
1. Brand Ambassadors
Let's face it, having the right graphic and message on a t-shirt can turn people into a walking, talking advertisement. T-shirts travel with you, go to the places you go, and spark conversations along the way. They unite us in our love of sports, universities, destinations, and outdoor adventures. So whether we stand behind a cause or want to signal our mood, t-shirts are the one thing that can make it happen.
2. The Perfect Canvas
People are drawn to and associate with visual graphics and messaging. A well-designed t-shirt becomes the perfect canvas to promote your brand in ways that is just not possible with traditional media. It becomes a next level elevator pitch.
3. Cut through the noise
Building brand affinity takes time and multiple impressions. With worldwide access to the internet and social media, the competition for consumers' attention is massive. When the competition is high, it's hard to stay relevant especially in heavily saturated markets. T-shirts can be a powerful force to reinforce your brand's appeal and they quickly connect with your audience.
4. Merch Collaboration
Clothing provides unlimited possibilities to collaborate with your favorite designers, brands, and followers. Through collaboration, you compound the power of your marketing channels and can gain a broader audience. Because clothing is popular with all customers, t-shirts have a way of building community among people, no matter the gender, age, or ethnicity.
5. Revenue Streams
The old saying "a picture is worth a thousand words" easily translates into dollars with graphic t-shirts.  Creative t-shirts have a way of drawing people in. They provide a great alternative revenue stream and can be packaged well with other products.
6. Hype and Momentum
The key to any successful company is knowing how to achieve hockey stick growth. Being able to build hype around your business is crucial to sustainability. Create limited editions, pre-sale runs, and other short-term campaigns, to cultivate an element of exclusivity. Once you've done that, it's a surefire way to create demand, appeal, and buzz for your products or designs.
The increasing popularity of 'merch drops' among product companies, musicians, and influencers alike demonstrates the power of using merchandise as a momentum-building tool. And when releasing multiple designs as a collection, merch drops are very effective. T-shirts are probably the most enduring and versatile forms of marketing and are genuinely preferable to bygone stunts, intrusive ads, or boring infomercials.
The first graphic t-shirt
As far as anybody can tell, in 1939 the movie Wizard of Oz were the first to add graphics to t-shirts. They had OZ written in bold letters on bright green t-shirts.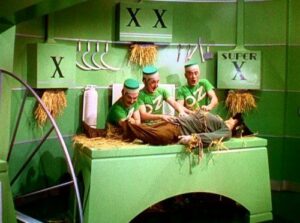 What's your favorite t-shirt?