January 19 2020 | Written by Guest Contributor Pam Nurrie
How to Update the Hoodie With This New Fashion Trend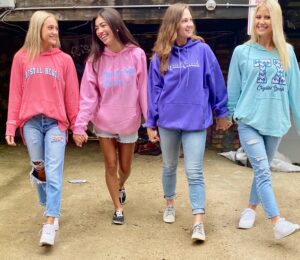 Discover the exciting new colors, techniques, and fabric options for Fashion Applique
Embroidery has been a popular method of embellishing clothing for thousands of years. Computerized machine embroidery came along and upped the game by offering faster and more affordable choices. Now we have Heat Transfer, which is quickly becoming the new high quality and affordable alternative to traditional embroidery without the detail-driven steps.
Although iron-on transfers have been around for years, the Heat Transfer method, called Fashion Appliqué, brings with it a long list of fabric choices, colors, and designs.
With Fashion Appliqué, you get the same look as embroidery, without the itchy, bulky backing on the shirt's inside. The process makes the shirt lightweight so you can apply it to a thin t-shirt. Besides being comfortable, it washes great and looks fantastic.
THE PROCESS
First, our in-house artists work with you to create a specialized design. The design is printed onto transfer paper. We take the garment of your choice, whether it's a blank t-shirt or a hoodie, and place the transfer down onto the shirt. The press is then closed using heat and pressure, similar to an iron, and the design is thermally transferred to the shirt, melting into the fabric.
The design mirrors the look and feel of old-fashion embroidery without the time-intensive application process. Some of the chosen designs appear stitched on, and patches can also be made out of leather. But upon closer inspection, the sublimated, full-color design is printed on fabric with options that are soft to the touch and pleasing to the eye. 
A WIDE VARIETY OF CHOICES
From Sublimated Felt with running stitch, to Sherpa and Brushed Poly Suede, you'll be amazed at the choices and options available. Some other options include: Poly Twill, Denim, Soft Felt, Brushed Poly, Mesh, Cotton Twill, Dazzle, Iridescent, Furry Poly, and Leather.
Eagle Products is super excited to offer Fashion Applique and we believe you will be impressed, as well. The fabrics, thread colors, stitch techniques, and decoration capabilities are endless. Contact us today to learn more.