March 12 2021| Written by Serena Stoetzer 
What is a tri-blend t-shirt? 
When picking a garment to showcase your next amazing graphic the options are endless. 
T-shirts come in a variety of fabric choices, from 100% cotton, to a combination of both cotton and polyester. Deciding on a garment really comes down to a personal preference and what works best for your plan of how you will use the garment.
What is the difference between dryblend and tri-Blend garments?
Dryblend is not to be confused with tri-blend because they sound similar. Dryblend is associated with the Gildan brand. This garment is made from 50% preshrunk cotton and 50% polyester. This 50/50 blend provides benefits of both the natural cotton fibers and synthetic polyester fiber. It is usually a thicker option compared to a tri-blend tee.
What does tri-blend mean?
Tri-blend shirts are made up of three different materials: cotton, polyester, and rayon. Rayon was originally created as a substitute for silk. Rayon is a fabric made of purified cellulose fibers, typically derived from wood pulp. 
This semi-synthetic fabric has a lot in common with cotton. It's breathable, moisture-absorbent, and the perfect choice for casual or athletic wear. 
How do tri-blend tees feel?
Tri-blends are very soft to the touch. With the addition of rayon and polyester, tri-blend t-shirts have a little bit of stretch. This makes for a comfortable wear overall. 
These garments are quite light, so if you're looking for a shirt with added weight, tri-blends wouldn't be your first pick. 
Printing on tri-blend shirts give off a vintage feel to the garment. It really showcases the natural heathering of the shirt. 
Here are some great District Made examples: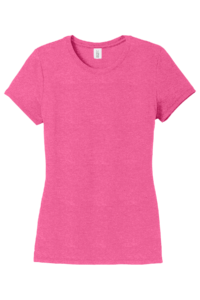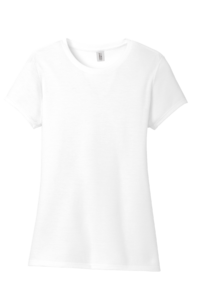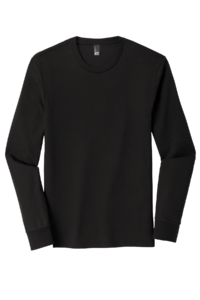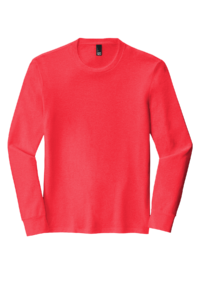 Do tri-blend shirts shrink?
Tri-blend shirts typically don't shrink as much, compared to a 100% cotton tee. 
Still unsure about switching to a tri-blend tee on your next order? This super soft fabric has the potential to really up your shirt game and they come in a wide variety of colors.
Below are some of our favorite Tri-Blends from district made clothing featured in our 2021 garment catalog.
Make sure to check out our Local Love catalog for a full list of other great tri-blend options!